In this episode, Durban-based visual activist Zanele Muholi is in conversation with photography curator John Fleetwood and independent curator and writer Missla Libsekal.
You can listen with the player above or iTunes, Spotify, and Google Podcasts.
Banner image: Install view of Interior Infinite by Alison Boulier. Episode Art: Zanele Muholi, Olunye I, The Sails, Durban, 2019.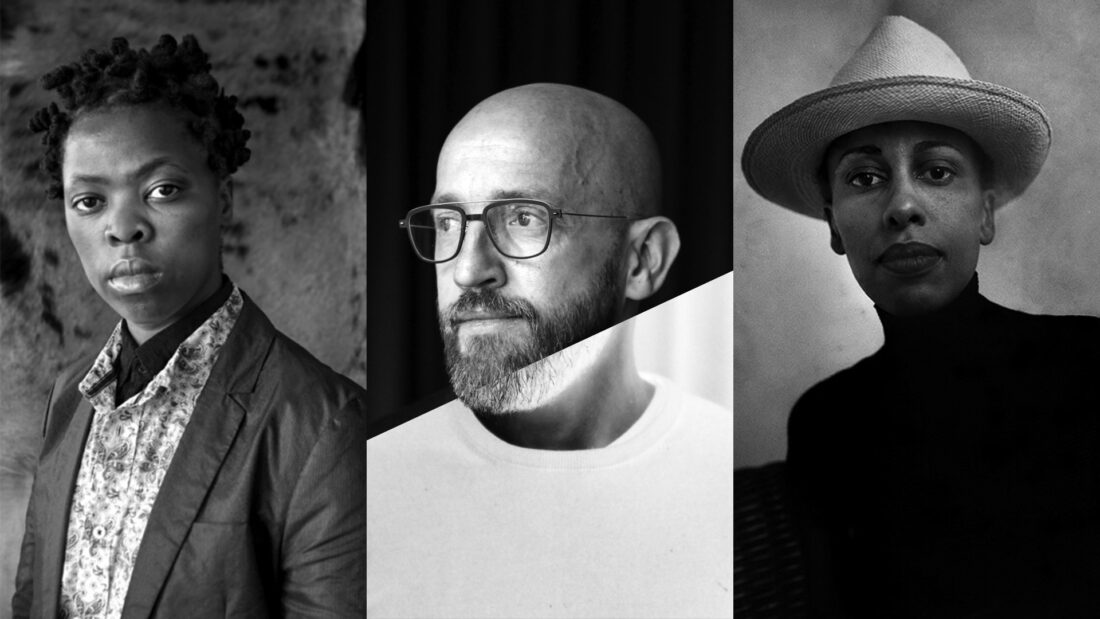 Zanele Muholi, John Fleetwood, and Missla Libsekal
Zanele Muholi is one of the most acclaimed photographers working today. They studied Advanced Photography at the Market Photo Workshop in Newtown, Johannesburg, and in 2009 completed an MFA: Documentary Media at Ryerson University, Toronto. Muholi has won numerous awards including the ICP Infnity Award for Documentary and Photojournalism (2016); Africa'Sout! Courage and Creativity Award (2016); the Outstanding International Alumni Award from Ryerson University (2016); the Fine Prize for an emerging artist at the 2013 Carnegie International; and a Prince Claus Award (2013), among others. Muholi's work has been exhibited at Documenta 13; the South African Pavilion at the 55th Venice Biennale; and the 29th São Paulo Biennale. Muholi was shortlisted for the 2015 Deutsche Börse Photography Prize for their publication Faces and Phases 2006-14 (Steidl/The Walther Collection). They are an Honorary Professor at the University of the Arts/Hochschule für Künste Bremen.
John Fleetwood is a photography curator and educator and director of Photo. He was born and lives in Johannesburg. Fleetwood has curated numerous exhibitions including recently Intimacy and Resistance (part of the Photobook Week Aarhus, Denmark, 2020)', Five Photographers: A tribute to David Goldblatt (Johannesburg, Maputo, Durban, Bamako et al.; 2018-2019); Of traps and tropes (Kerkennah, Tunisia; 2018); A Return to Elsewhere (Johannesburg, Brighton Photo Biennale; 2014); Transition (Johannesburg, Arles; 2012-2013). In 2017, he was guest editor for Aperture's Platform Africa edition.
Missla Libsekal is an independent writer, curator and cultural producer. In 2010 and ahead of the curve, she founded Another Africa, a much-needed digital platform and safe space to give agency to African and Diasporic voices. Operating until 2016, it became a leading destination for this sector, publishing content from a myriad of contributors. With a view on publishing not merely as an act of documentation, but also as a means of inquiry in its own right, her practice developed from an exploration of the technical and artistic possibilities of storytelling made possible through a digital medium.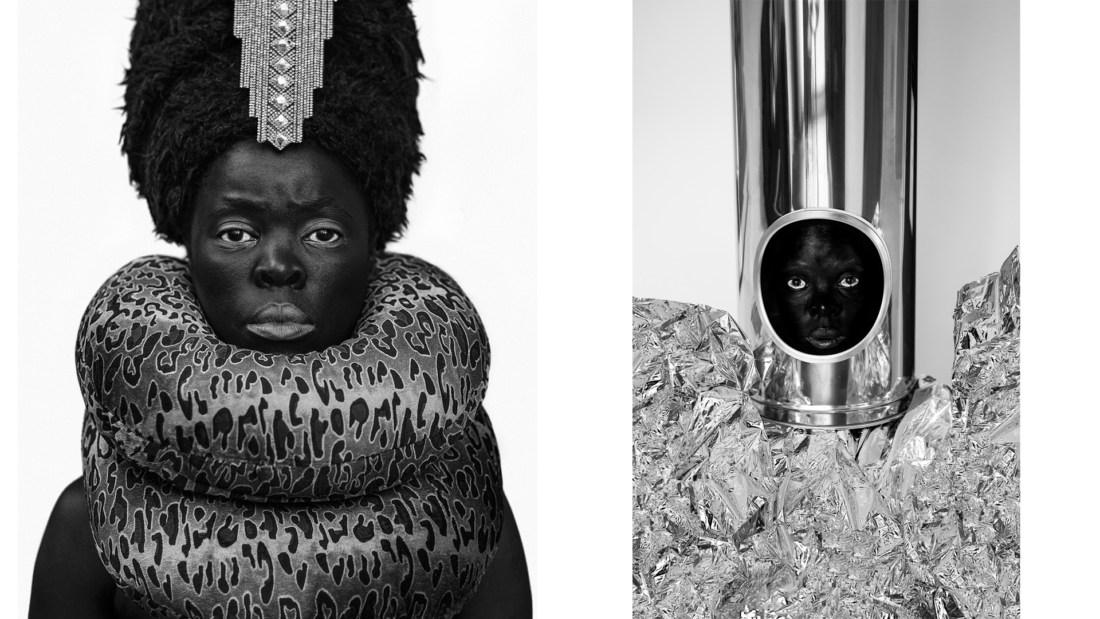 Zanele Muholi, Xiniwe at Cassilhaus, North Carolina, 2016 and Cwazimula II,Paris, France, 2019.
Zanele Muholi has photographed their ongoing series Somnyama Ngonyama: Hail the Dark Lioness all over the world. In each self-portrait, Muholi clads themself in found materials and objects, forming makeshift garments that consider histories of Black life, migration, and representation in a global context.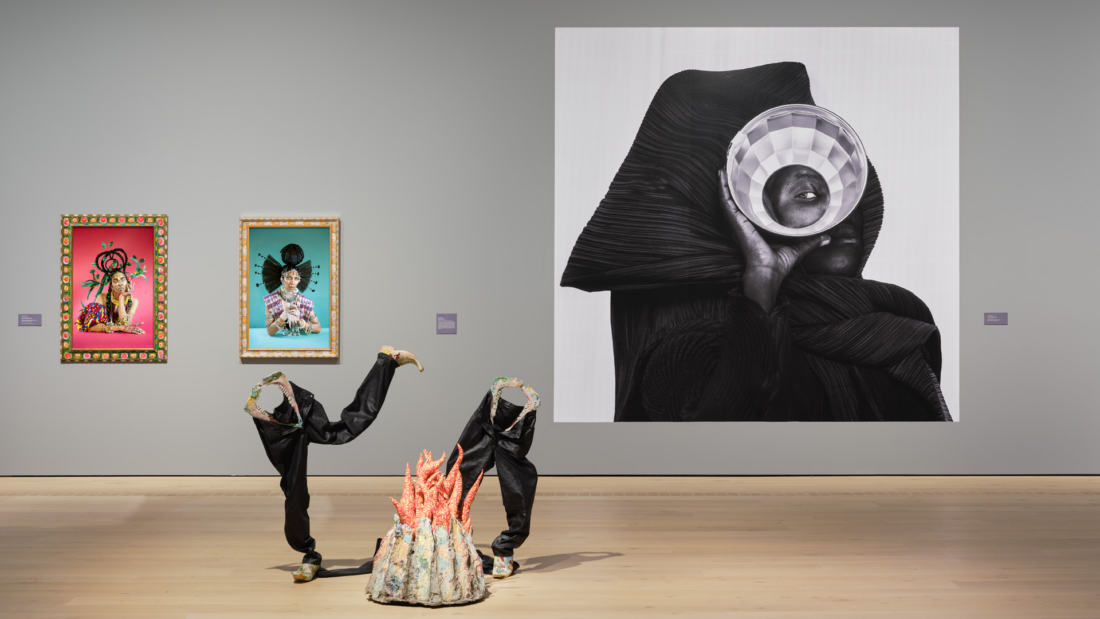 Install view of Interior Infinite by Rachel Topham Photography.
Muholi, who refers to themself not as an artist but a "visual activist", remixes the visual languages of fashion, classical painting, and ethnographic exoticism, calling out the cultural and sexual violence inherent in such images. Centring their own queer, Black South African body, Muholi ensures that their dark complexion is the focus of each photograph, set among complex visual symbols that allude to history, ancestry, gender, and social justice.

Find out more about Interior Infinite here.
Subscribe to The Polygon Podcast on iTunes, Spotify, and Google Podcasts.