In this episode, the Gallery's curator Justin Ramsey is in conversation with artists Dana Claxton and Skeena Reece about Interior Infinite, with a performance by poet Nadia Chaney. Interior Infinite is on now until September 5.
You can listen with the player above or iTunes, Spotify, and Google Podcasts.
Banner image: Alison Boulier. Episode Art: Dana Claxton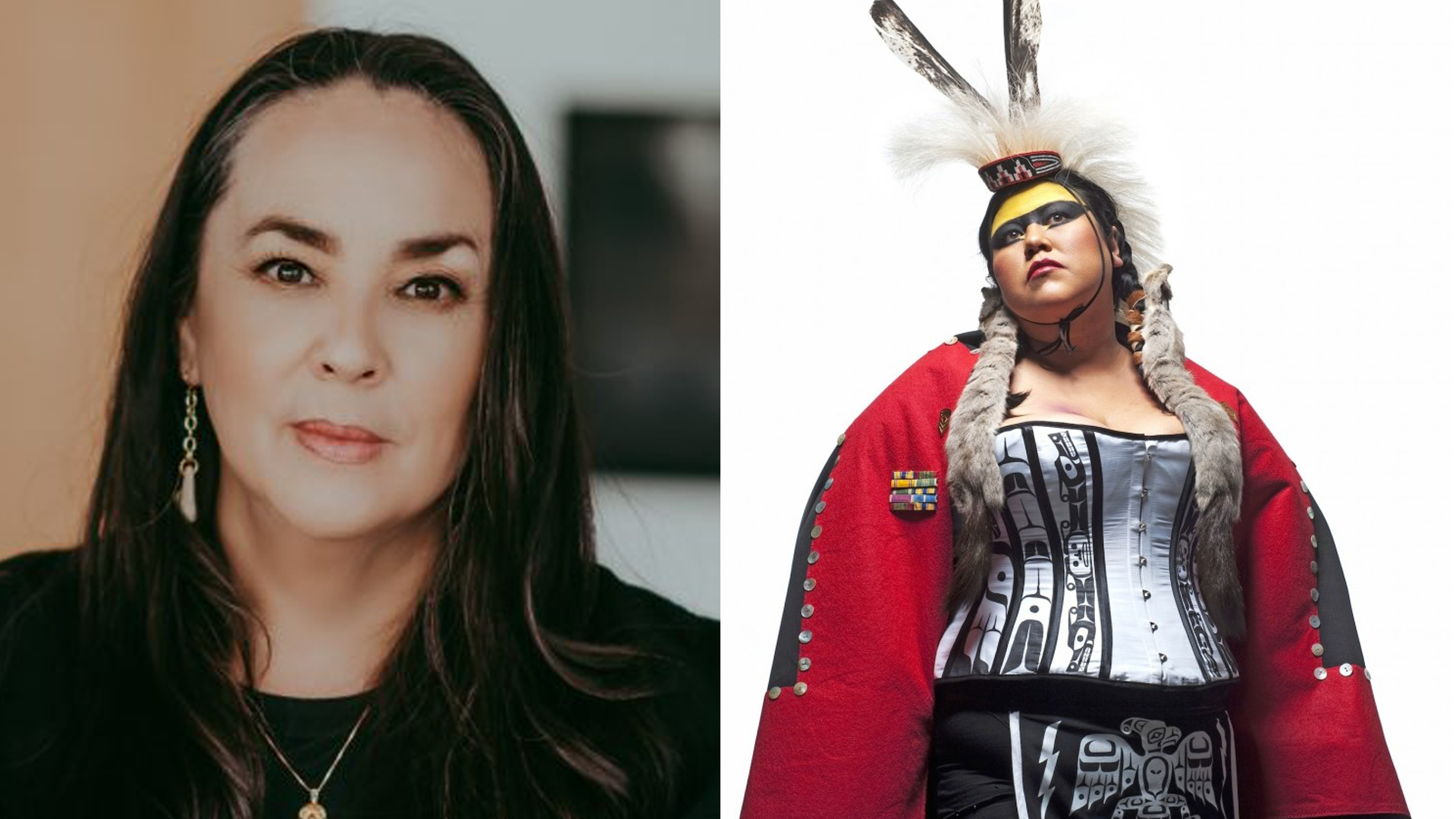 Dana Claxton and SKeena Reece
Dana Claxton is a critically acclaimed international exhibiting artist. She works in film, video, photography, single- and multi-channel video installation, and performance art, investigating Indigenous beauty, the body, the socio-political and the spiritual. Her work has been shown globally in exhibitions and flm festivals, and she has received numerous awards including the Governor General's Award in Visual and Media Arts (2020), the Scotiabank Photography Award (2020), the VIVA Award, the Eiteljorg Fellowship, the Hnatyshyn Award, and the YWCA Women of Distinction Award. In 2018, she had a solo survey exhibition at the Vancouver Art Gallery. Her new body of work premiered at the inaugural edition of the Toronto Biennial of Art, Toronto ON. Claxton is Head and a Professor in the Department of Art History, Visual Art and Theory with the University of British Columbia. She is a member of Wood Mountain Lakota First Nations located in SW Saskatchewan and she resides in Vancouver, Canada.
Skeena Reece is a Tsimshian/ Gitksan and Cree artist based on the West Coast of British Columbia. She has garnered national and international attention most notably for Raven: On the Colonial Fleet (2010), her bold installation and performance work presented as part of the celebrated group exhibition Beat Nation. Her multidisciplinary practice includes performance art, spoken word, humor, "sacred clowning," writing, singing, songwriting, video, and visual art. She studied media arts at Emily Carr Institute of Art and Design, and was the recipient of the British Columbia award for Excellence in the Arts (2012) and the Viva Award (2014). For her work on Savage (2010) by Lisa Jackson, Reece won a Leo Award for Best Actress. Reece participated in the 17th Sydney Biennale, Australia, and recent exhibitions include Comox Valley Art Gallery (2018) and Oboro Gallery, Montréal (2017).
Nadia Chaney is a spoken word poet and community arts facilitator who has appeared on hundreds of stages. Her essays and poetry have recently appeared or will appear with Terrain.org, Locked Horn Press, Flycatcher Journal and the Chicago Quarterly Review. She is one of the first commissioned writers for House House Press. In 2018 she directed an interdisciplinary project (dance, music poetry, animation) based on a series of 300 automatic drawings. She is a first generation Indian-Canadian born in Saskatoon, grown up in Ottawa, matured in Vancouver currently in Montreal all of which she recognizes as the traditional territories of Indigenous peoples who are its rightful stewards.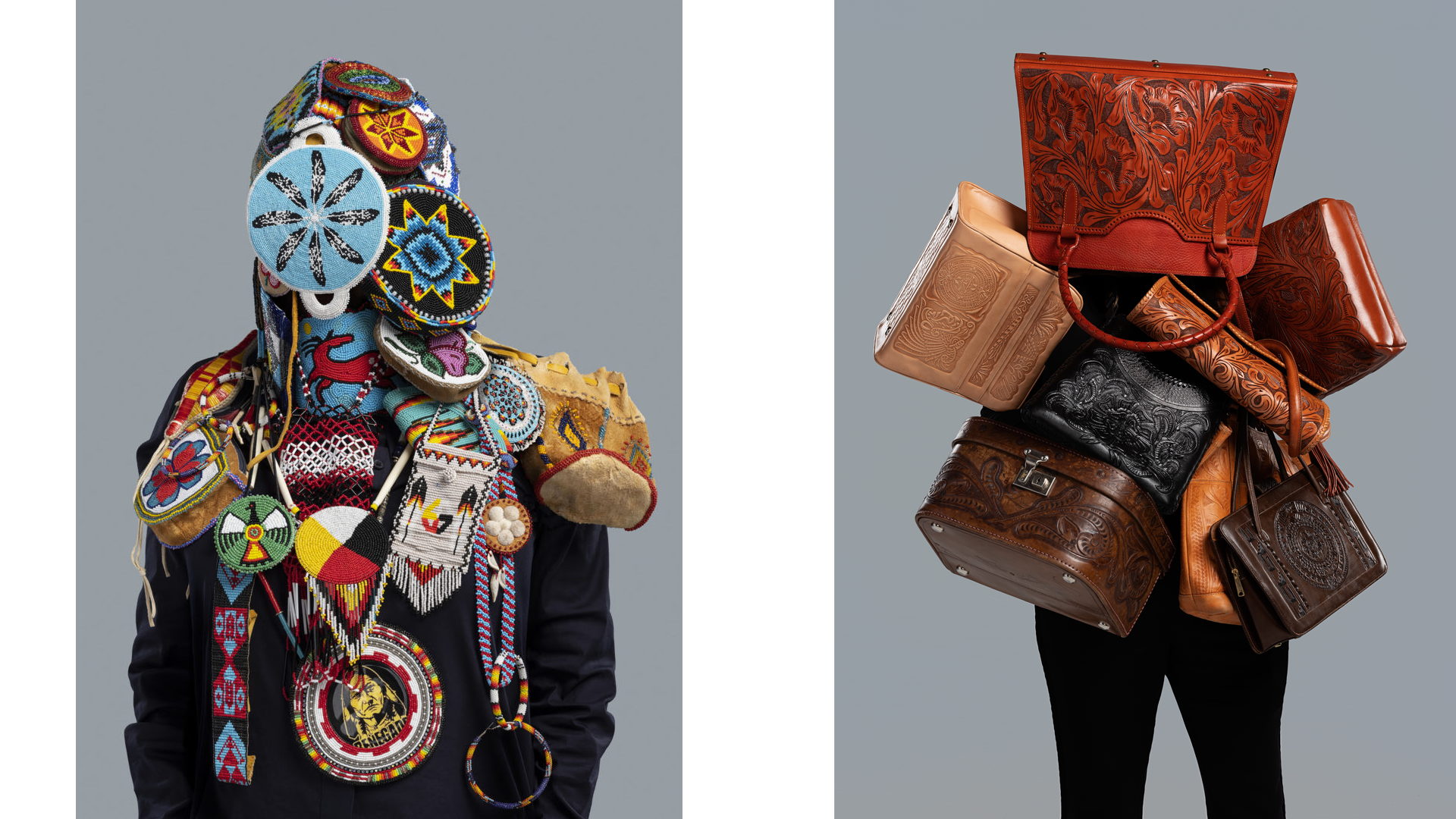 Dana Claxton, Headdress – Dana, 2019 and Hand Tooled (4 Ellen), 2021.
The two self-portraits by Dana Claxton reveal the vibrant role that belongings play in identity formation and representation. Here, heirlooms and personal effects form—or de-form—the silhouette of Claxton's body, literally composing her identities. Headdress (Dana) borrows from an inter-tribal collection of beadwork to convey transpersonal narratives spanning different generations and geographies, while Hand Tooled (4 Ellen) is both intimate and idiosyncratic, drawing from the artist's personal collection of handbags made by Indigenous Mexican artisans. In both works, Claxton becomes a cultural carrier, embodying the knowledge contained within these storied objects.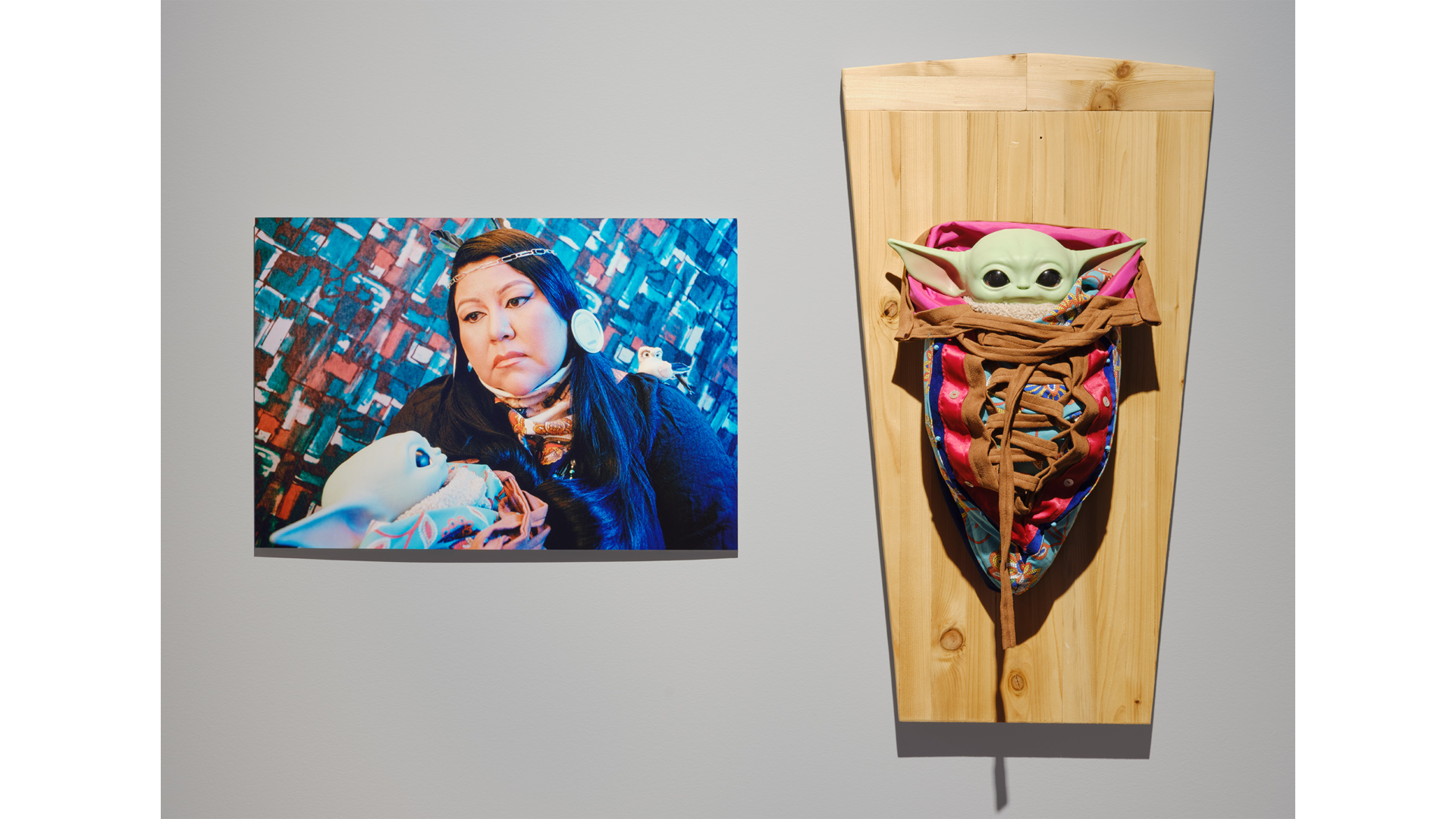 Skeena Reece, victimprincessmother and child, 2021 and My child, 2021, photo by Rachel Topham Photography.
Skeena Reece's performance-based works engage ideas of representation, autonomy, and selfhood. For this recent project, developed specifically for Interior Infinite, Reece adopts a doll of Baby Yoda as her child, as many Indigenous commentators on social media have identified with the character's status as a quiet observer, removed from his culture and detached from his language yet possessing vast wisdom and spiritual power. Reece provocatively questions the implications of indigenising a non-Indigenous cultural icon, and what this means for actual Indigenous representation. Her new performance series, Victimprincessmother, calls out assumptions, expectations, and stereotypes surrounding Indigenous women, and will unfold over TikTok during the run of the exhibition.

Find out more about Interior Infinite here.
Subscribe to The Polygon Podcast on iTunes, Spotify, and Google Podcasts.