In this episode, The Polygon's Director Reid Shier is in conversation with Feast for the Eyes curators Susan Bright and Denise Wolff. Feast for the Eyes is on now at The Polygon until May 30.
You can listen with the player above or iTunes, Spotify, and Google Podcasts.
Follow us on Instagram for more content from this episode.
Banner image: Rachel Topham Photography, episode art: Archival image of a meat tower, courtesy of Denise Wolff

Denise Wolff and Susan Bright at The Photographer's Gallery in London.
Dr. Susan Bright is a curator and writer based in London. In 2007 she co-curated How We Are at Tate Britain. In the same year she curated Face of Fashion at the National Portrait Gallery. Other exhibitions include: Home Truths at The Photographers' Gallery and the Foundling Museum (2014). In 2019, Bright was guest curator for PHotoESPAÑA, and is currently co-curator of f/stop 9: Festival für Fotografie Leipzig. She has authored seven books – Photography Decoded; Feast for the Eyes: The Story of Food in Photography; Home Truths: Photography and Motherhood; Auto Focus; How We Are: Photographing Britain; Face of Fashion and Art Photography Now.
Denise Wolff is senior editor at Aperture. Prior to Aperture, she was the commissioning editor for photography at Phaidon Press in London. Among the books she has commissioned and edited are, The Open Road: Photography and the American Road Trip by David Campany and Feast for the Eyes: The Story of Food in Photography by Susan Bright (for which she co-curated the accompanying exhibitions); Girl Pictures by Justine Kurland; The Colors We Share by Angélica Dass; and Eyes Open: 23 Photography Projects for Curious Kids by Susan Meiselas. Wolff also spearheads Aperture's Photography Workshop Series.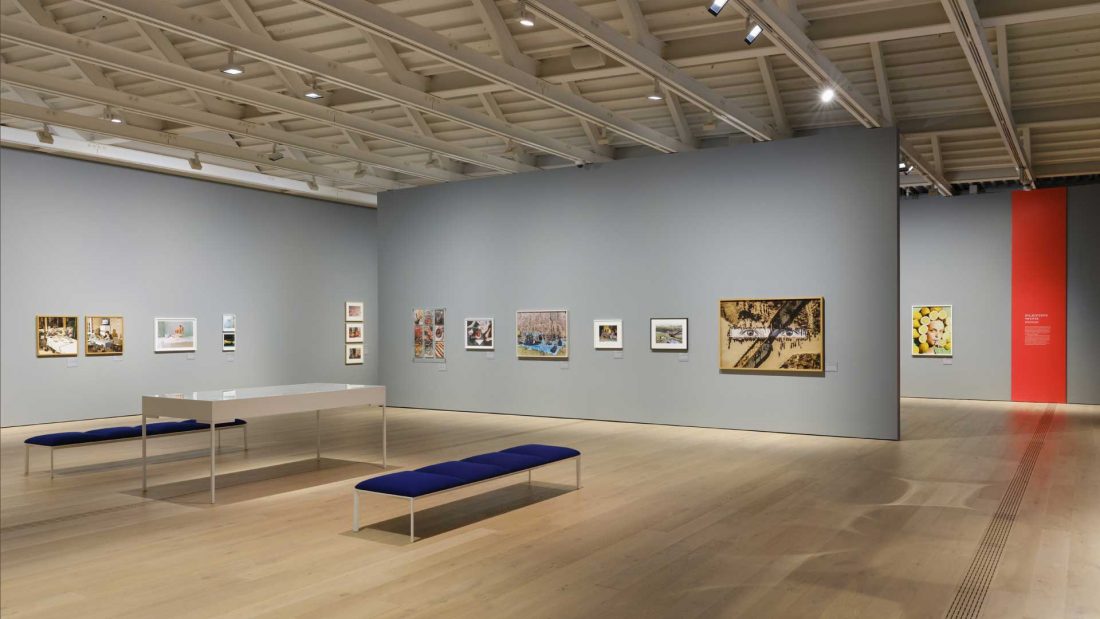 Rachel Topham Photography
Feast for the Eyes explores the rich history of food as one of photography's most prevalent and enduring subjects. In an age where sharing images of food has emerged as a unique facet of contemporary culture, this exhibition offers a look at the timeless ways in which things we eat shape us and our perceptions of the world.
Featuring works by some of the most important artists of the past century, the presentation includes Nobuyoshi Araki, Guy Bourdin, Nan Goldin, Vik Muniz, Ed Ruscha, Cindy Sherman, Wolfgang Tillmans, Andy Warhol, Weegee, and 50 more. The exhibition foregrounds their images within a history of artistic, commercial, fashion, and science photography, providing an unexpected and remarkable survey of food's central role in our lives.
Charles Jones, Lettuce, Brussels Sprouts, and Peas, ca. 1900. © Charles Jones, Courtesy Michael Hoppen Gallery, London
The strength of Charles Jones' pictures lies in their simplicity, with vegetables isolated against a plain background and natural light highlighting the roundness of form. This marks a significant difference from how food had been photographed in the previous century. Sadly, none of Jones's negatives remain; he used them as makeshift cloches to protect his plants from winter frost.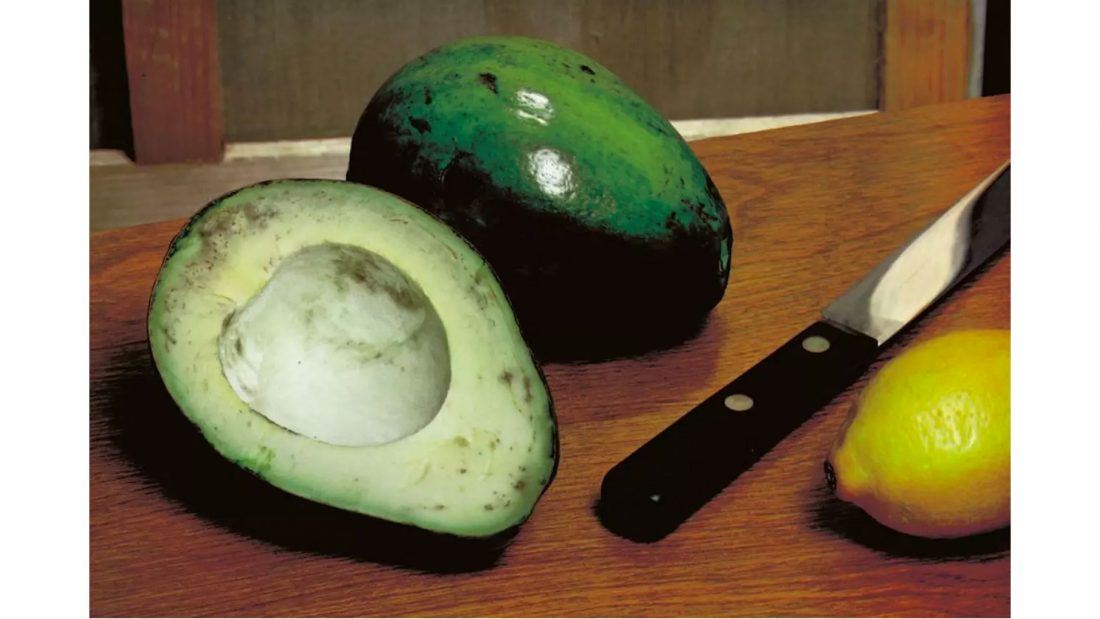 Paul Outerbridge, JR., Avocado Pears, 1936, Courtesy Graham Howe.
Paul Outerbridge is best known for both his nudes and his considerable commercial work. Though this is not a commercial image, the dynamic angle of the cutting board and the knife, as well as the addition of the lemon as a prop, are familiar practices in food styling, so crucial to the composition of commercial food photographs. But the bruising on the avocado would never appear in an ad, which makes the picture odd. Outerbridge's slightly off-kilter approach adds a wonderful strangeness to the ordinary subject matter.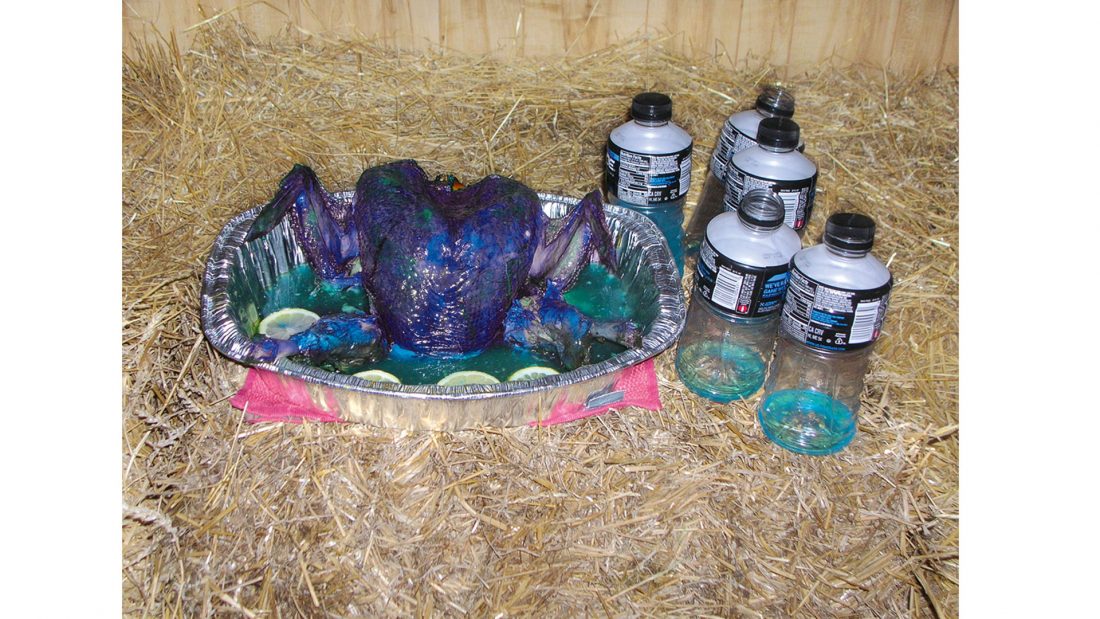 Chris Maggio, from the series Male Chef Thanksgiving, 2013, Courtesy the artist.
Male Chef, a fictional blog, spoofs the healthy-living websites that have flourished with the rise of today's foodie culture. Men from a class and generation that would typically watch TV while women cook put on the traditional Thanksgiving holiday on their own. Male Chef plays the jokey American "gross-out" on today's progressive food culture, with all its online photographic obsessions, showing it to be just as loaded with aspirations of class and metropolitan taste as the past.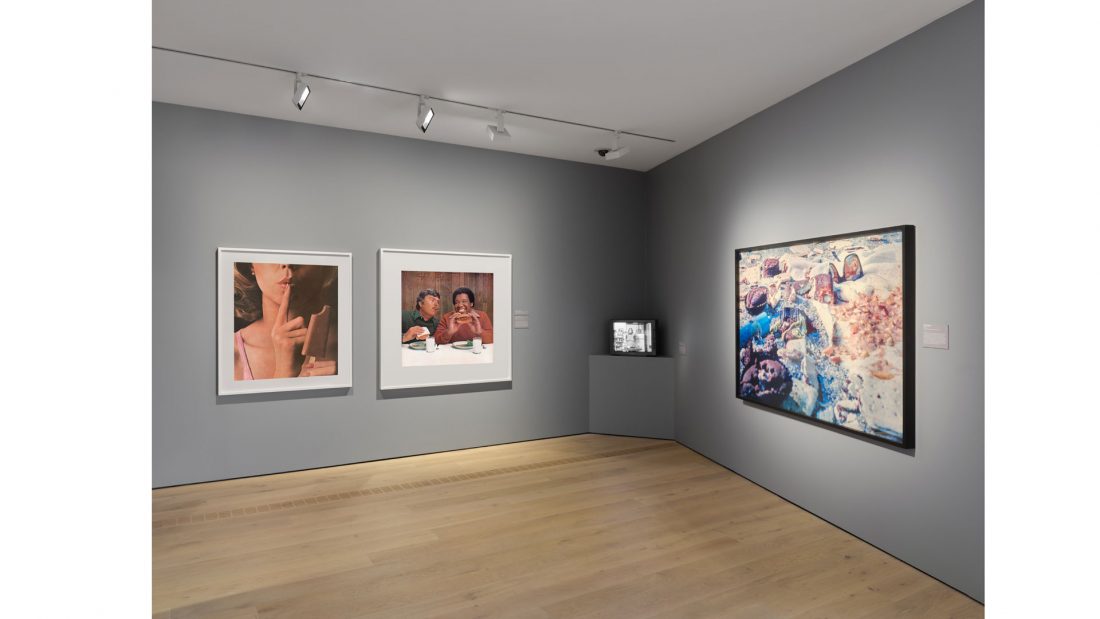 Rachel Topham Photography
Cindy Sherman's photograph, (on the right), from her Disasters series, turns the focus away from her own body and uses food as a loaded surrogate. Her tortured face is reflected in a pair of sunglasses amid a landscape of lurid remnants of a day by the beach. The woman represented here is decidedly not the clichéd babe lying on a beach towel, nor is she the tidy woman in the kitchen. Instead, Sherman shows these expectations to be sickening and highlights how women's body image can be complicated, riddled with feelings of self-disgust and extreme relationships with food.
Subscribe to The Polygon Podcast on iTunes, Spotify, and Google Podcasts.