In this episode: a conversation between Third Realm curator Davide Quadrio and writer and art historian Xin Wang. In their conversation, Davide and Xin question how contemporary art from China is defined, and is often associated with exoticism. They discuss the importance of deepening cultural understanding, citing examples in which Buddhist practices has been reclaimed in contemporary art.
You can listen with the player above or with iTunes, Spotify, and Google Podcasts.
Follow us on Instagram for more content from this episode.
Banner Image and episode art: Lu Yang, stills from Wrathful King Kong Core, 2011, courtesy FarEastFarWest collection

Davide Quadrio is a producer and curator based in China and Italy. He is the founder of the first not-for-profit independent creative lab in Shanghai, BizArt Center, a platform to foster the local contemporary art scene. In 2007 he created Arthub, a production and curatorial proxy active in Asia and worldwide. Quadrio has organized hundreds of exhibitions, educational activities and exchanges in China and abroad. Recent curatorial projects include "Visions in the Making" at the Italian Cultural Center, New Delhi and Zhang Enli at Galleria Borghese, Rome.
Xin Wang is a writer, curator and art historian based in New York. Currently a Ph.D. candidate in modern and contemporary art at the Institute of Fine Arts, NYU and the Joan Tisch Teaching Fellow at the Whitney Museum, where she has conducted Art History from Home webinars about technology, Asian/American perspectives, and social change. She is the curator of numerous exhibitions in the U.S., Europe, and Asia, and her latest writings have appeared in Art in America, Art Agenda, E-Flux Journal, and Artforum. She is currently planning an exhibition that explores Asian Futurisms for the Museum of Chinese in America in New York City.
Read Cyclical Gods: Reliving Pandemic by Xin Wang in Momus

Credit: Install view of Paola Pivi's Tulkus in Third Realm at The Polygon Gallery, SITE Photography
In their conversation, Davide and Xin discuss how contemporary art from Asia is defined, with a focus on Buddhism. While Buddhism in art is often associated with exoticism and Western art genres such as minimalism, both curators cite examples in which Buddhist practices find deep resonance. Paula Pivi's Tulkus, for example, engaged more than 30 collaborators around the world in compiling an archive of 5,000 images spanning more than a century. The Polygon Gallery's display of select photographs from the ongoing Tulkus project with a layout based on the idea of a mandala.

Credit: Lu Yang, stills from Wrathful King Kong Core, 2011, courtesy FarEastFarWest collection
Chinese artist Lu Yang explores Buddhist beliefs through video games. Video games as exercises in narrative storytelling and world-building, provide a very different access point to legends and cosmologies than would be experienced in a temple. A spiritual journey may be likened to a quest, revealing parallels between the search for higher realms and the use of technologies to better understand the world and our place in it.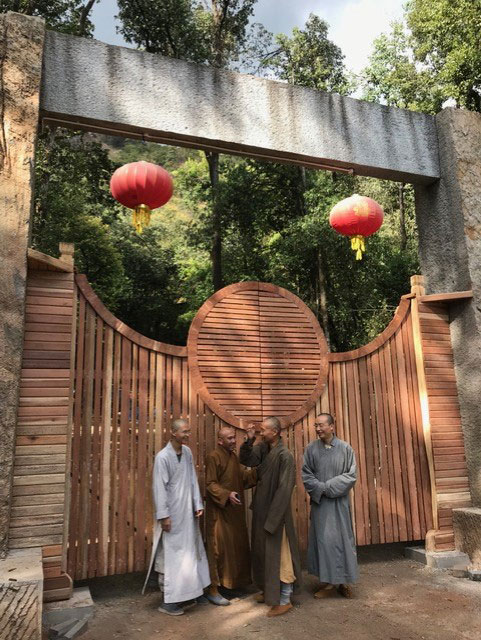 Credit: Monks at Mount Jizu, Dali, Yunan in front of a moon door designed by artist Li Shurui, 2019, Xin Wang
Chinese artist Li Shurui, whose work is largely abstract, had been doing socially engaged art in her community when a Buddhist monastery engaged her to help redesign their complex at the Radiant Temple at Mount Jizu. The monks responded to Li's work, despite that she did not consider herself an expert in either spatial planning or Buddhist history. The successful collaboration pictured above is Li's well-received Moon Gate, finished last year.

Credit: Zhao Yao, Spirit Above All installation view, 2016, courtesy of the artist.
Another example of Buddhist art taking form in a meaningful, site-specific environment is Beijing-based artist Zhao Yao's Spirit Above All. Zhao unfurled a vast abstract painting on the Tibetan Plateau, 5,000 metres above sea level. Transported with the help of Tibetan monks, the work functions simultaneously as land art while carrying out religious ritual, such as the laying out of embroidered Thangkas during Tibet's Sho Dun Festival.
Subscribe to The Polygon Podcast on iTunes, Spotify, and Google Podcasts.