On this episode, a conversation between two ethnobotanists: Cease Wyss and her daughter Senaqwila Wyss.
You can listen with the player above or iTunes, Spotify, and Google Podcasts.
Follow us on Instagram for more content from this episode.
Images courtesy of Cease Wyss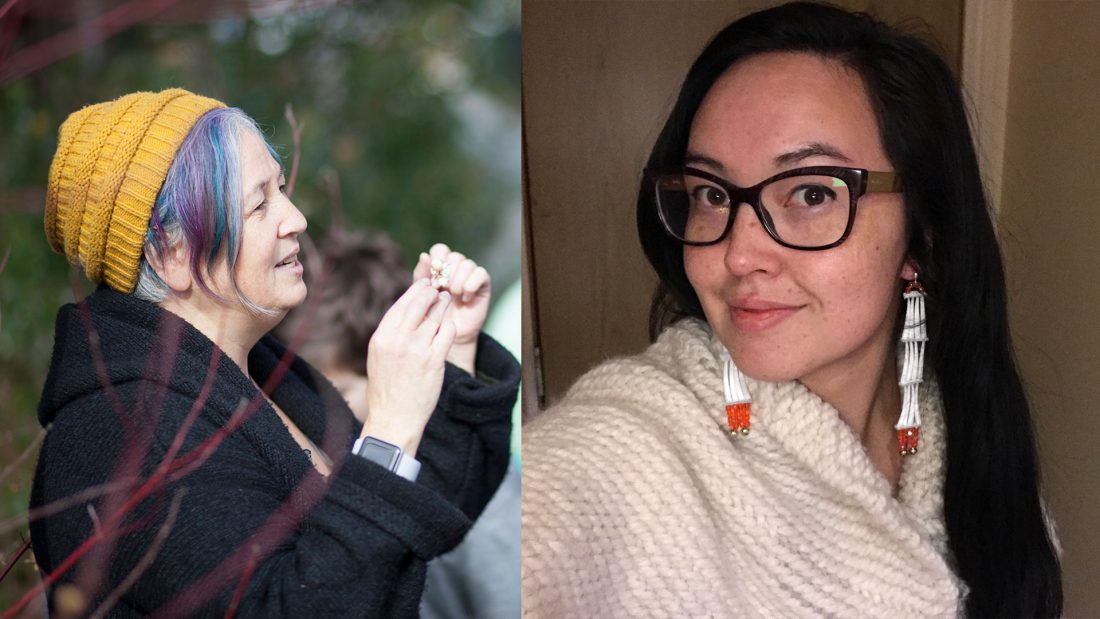 T'uy't'tanat-Cease Wyss is an interdisciplinary artist, ethnobotanist and educator of Skwxwu7mesh/Sto:Lo/Hawaiian/Irish-Metis/Swiss ancestry. Also a food security activist who is traditionally trained by Indigenous knowledge keepers and Elders, her 30-year practice has focused on sharing Indigenous knowledge through community engagement. She was the Vancouver Public Library's 2018 Indigenous Storyteller in Residence, and in collaboration with Anne Riley, is currently working on a City of Vancouver public art project, A Constellation of Remediation, that involves planting Indigenous remediation gardens.
Senaqwila Wyss holds a Bachelors of the Arts Degree in the faculty of Communications, Arts and Technology, minor in First Nations Studies. She also holds a First Nations Languages Proficiency Certificate in the Sḵwx̱wú7mesh Sníchim. She is raising her three-year-old daughter to be a first language speaker, which has not been done in her family four generations after colonial impacts. She practices ethnobotany with traditionally trained mom Cease Wyss with Indigenous plant medicines. She was raised learning these ancestral teachings and uses plants as teas, medicines, tinctures and ceremony.
Cease Wyss's work in conserving and sharing important Indigenous knowledge and histories has spanned many fields and disciplines. We have had the pleasure of collaborating with her on multiple projects, including our Gallery School program, where she has been an unforgettable guest speaker and eco-tour guide. For The Polygon App, Cease shot a series of videos, "Cultural Crossings", tracing the history of the Squamish village of Xwmélch'tstn through parts of North Vancouver that have encroached on or occupied its territory.
For an upcoming publication by The Polygon Gallery, Cease wrote an ethnobotany, identifying six Indigenous plants that grow on the North Shore near the gallery's site.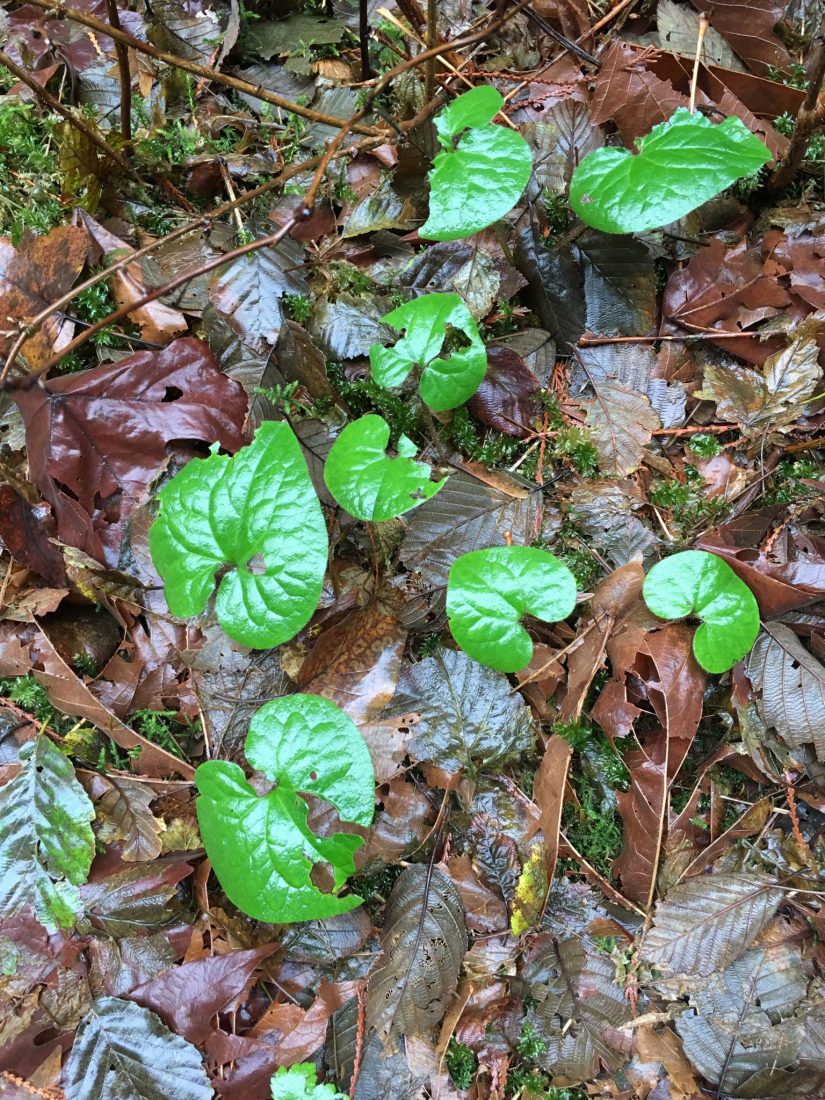 Wild Ginger
Asarum caudatum
Xet'tanay
This wonderful heart-shaped, leafy plant grows close to the surface from an underground rhizome. It is often found at medium to high elevations in coastal and interior mountain ranges. Every part of the plant smells and tastes like tropical ginger. Wild ginger [MS1] helps with digestive issues and soothes acid reflux.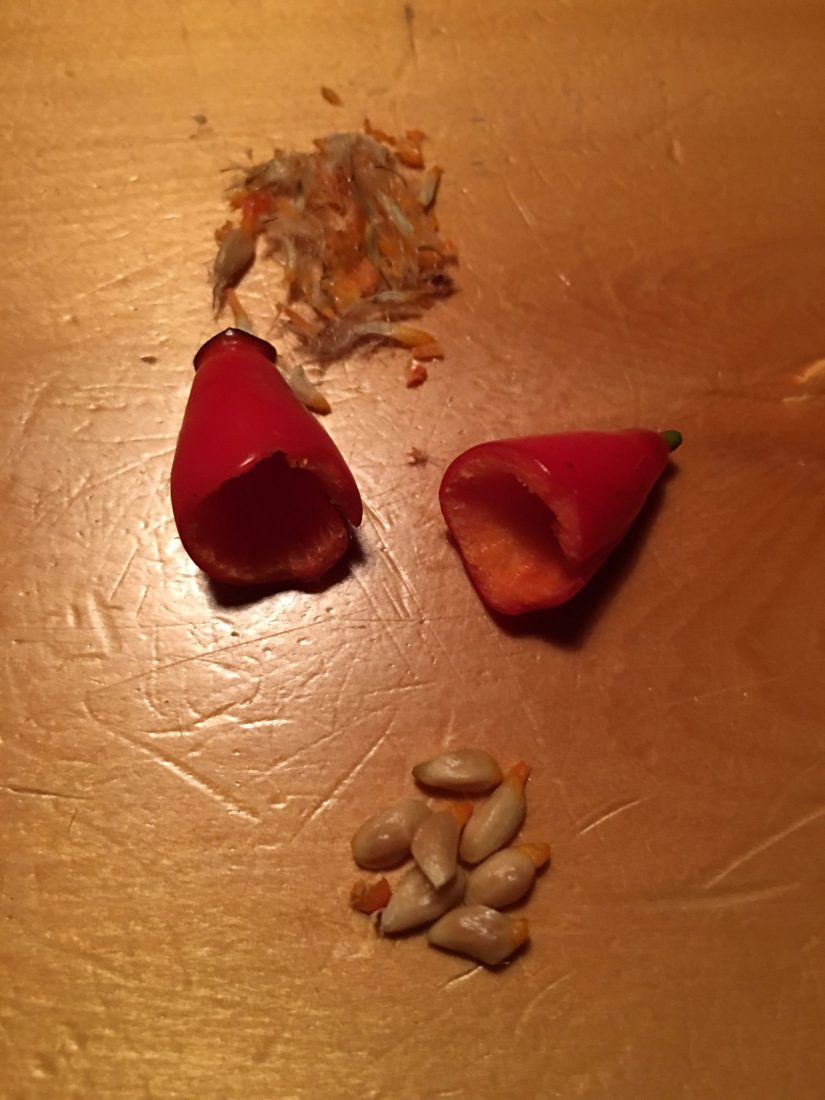 Rosehips/Wild Rose
Rosa acicularis
Kalkay
Wild roses are found throughout Turtle Island in different elevations and conditions. The roses tend to have one layer of petals in a circular pattern. They are generally pink with white highlights and are quite fragrant, more so than domestic roses. They flower in the late spring, and by mid-summer, when the petals fall off the roses, they develop small green berries. As the summer progresses along and into the fall season, the fruit turns orange-red. Rosehips grow in a variety of sizes, from tiny to large, and contain high levels of vitamin C. The flesh from the rosehips is rather chalky in flavour, and can be dried for teas, cooked down for jelly, or simply eaten raw. The inner core is made up of fuzzy particles and seeds, which may cause indigestion. It's well worth the extra effort to remove the seeds and the fuzz when preparing the rosehips for drying.
Red Huckleberry
Vaccinium parvifolium
Sk'wek'kwchs
The health benefits of this plant, which produces one of the most important berries in the Pacific Northwest Coast, are both preventative and restorative. Eating them, whether fresh or dried, will cleanse and rebuild your blood and restore your iron levels, and the tiny seeds will tumble through your intestines cleansing away food particles that have gotten stuck and could lead to intestinal illness, like colitis. A shrubby plant, the huckleberry loves to grow out of rotting cedar stumps and logs, and thrives in semi-shade canopies from sea level up to mid-level areas of coastal mountains. The shrubs can live up to several hundred years and take at least seven years to produce their first berries. The flowers are important pollinator food for wild indigenous bees and honeybees alike.
Oregon Grape
Mahonia aquifolium
Seliyay
This plant is a powerful healer. Its roots, inner bark, and stock are bright yellow. The plant bears bright yellow flowers, which upon pollination become clustered berries that ripen into deeply rich and dark purple berries. This variety, which is 1-2 feet high at maturity, grows close to the ground compared to its identical relative, which can grow 8-10 feet high. Both varieties are beneficial to many health concerns if taken as teas and the berries as jelly.
Trailing blackberry
Rubus arsinus
Skw'elmxw / kw'elmxway
This is a very hardy and fruitful little plant. The berries are tiny by comparison with the invasive Himalayan blackberry. The berries clean our blood and are filled with antioxidants.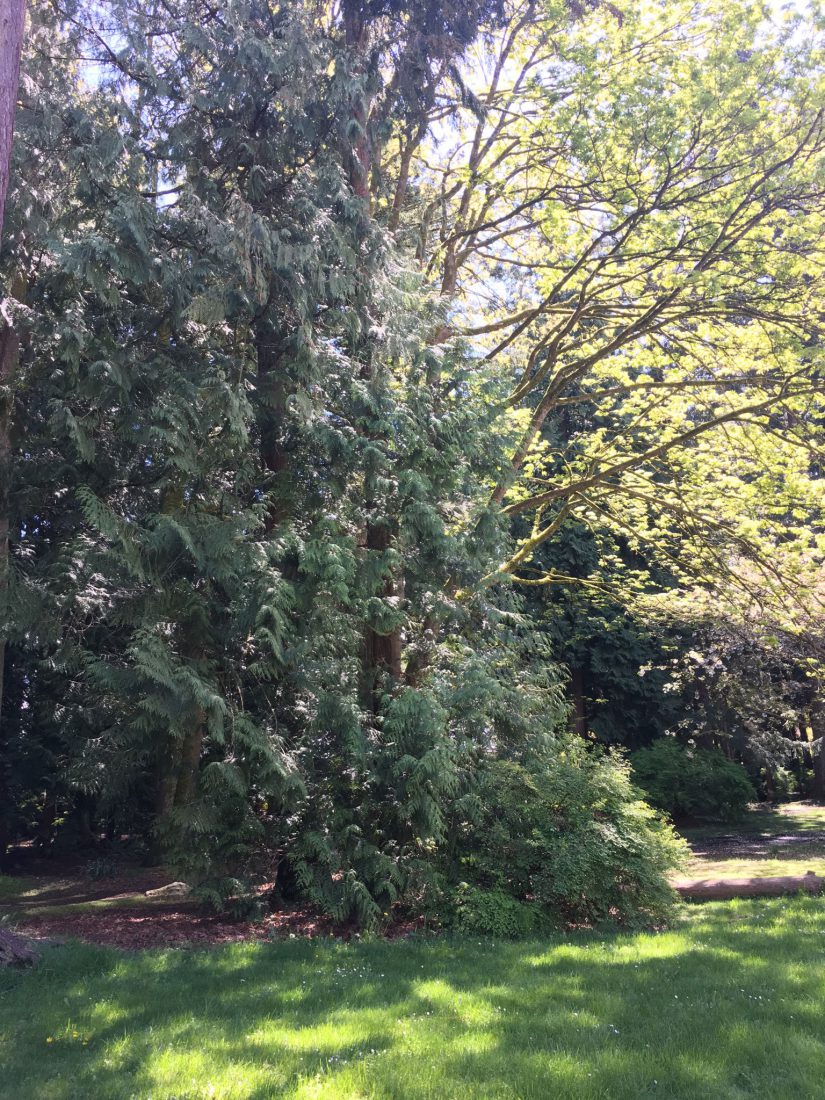 Western Red Cedar
Thuja plicata
Xpay
Pacific Western Red Cedar is known as the tree of life to all Pacific Northwest Coast Indigenous peoples, and is an invaluable part of the plant technology for many. Housing, transportation, utilitarian basketry and clothing are the key elements of this tree. Every part of the plant is used. The roots are woven into baskets and accessories; the trunks, as well as making up the entire structure of long houses, are carved into canoes, totem poles, house posts and welcome posts; the inner bark is woven into blankets, hats, capes, skirts, accessories, baskets, mats, and more. The branches have many uses as carving tools, digging sticks, paddles and bentwood boxes. The soft green needle branches are used to freshen homes, to keep out bugs and other pests, and in spiritual cleansing ceremonies that ground Indigenous people with their foundation, to be clear and focused. Red Cedar, one of the giants of the forest, can live up to 1,600 years. It was the tree on which the forestry industry was founded. There are very few giants left, and as a result there is very little left in the way of old-growth forestry in the Pacific Northwest Coast today. Cedar is sacred.
Subscribe to The Polygon Podcast on iTunes, Spotify, and Google Podcasts.