On this episode, The Polygon Gallery's manager Diane Evans and curator Faith Moosang are in conversation about the life and work of photographer C.D. Hoy. The gallery mounted the exhibition First Son: Portraits by C.D. Hoy in 1999.
All C.D. Hoy photos courtesy Barkerville Historic Town
www.barkerville.ca
You can listen with the player above or iTunes, Spotify, and Google Podcasts.
Follow us on Instagram for more content from this episode.
Episode artwork: C.D. Hoy, Chief William Charleyboy and his wife, Elainie Charleyboy (Redstone). (P1583). Banner Image: C.D. Hoy, (left to right) Jerry (or Harry) Boyd (Kluskus), Captain Marc Mack (Nazko), John Lazzarin. Chief Michel (Nazko), unknown Chinese man, Moffat Harris (Nazko), Chief Morris Molize (Kluskus). Courtesy Barkerville Historic Town (P1887)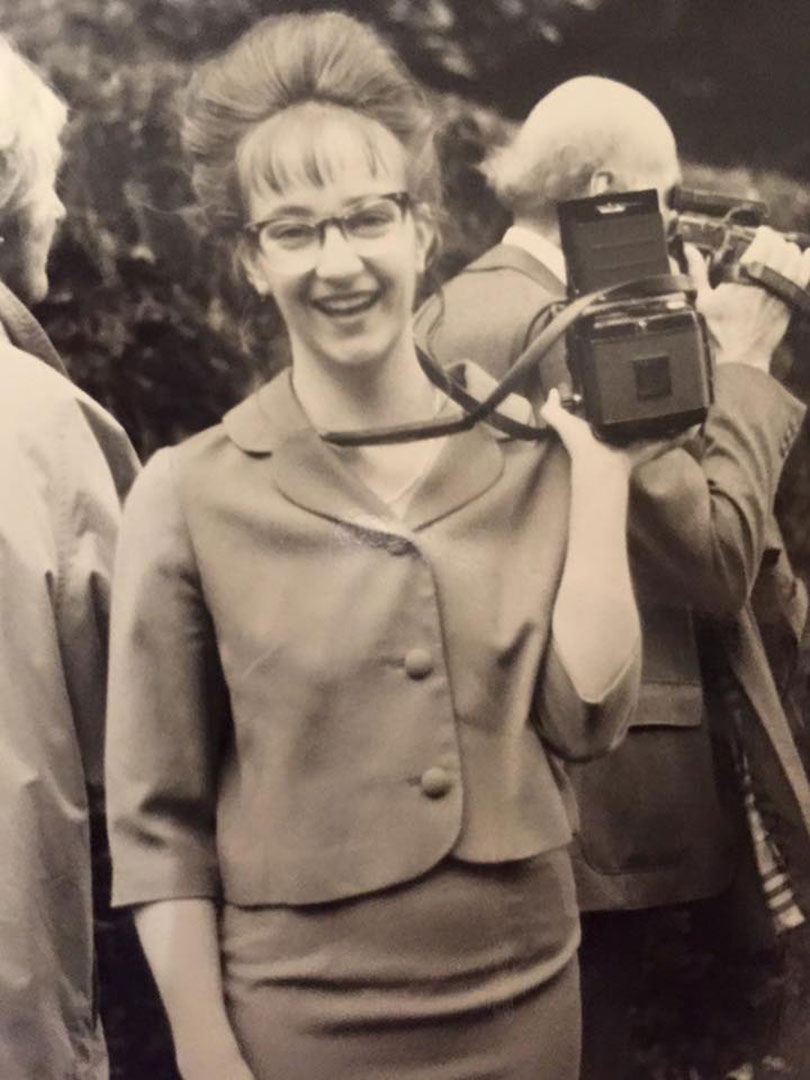 Faith Moosang talked with The Polygon's Manager Diane Evans via Zoom on May 18.

C.D. Hoy standing with Josephine Alexander. (P1972)
Chow Dong Hoy's story is ultimately a celebration of one man's indomitable will and spirited sense of adventure. Born in Guangdong Province in 1885, C.D. Hoy was seventeen years old when he immigrated to Canada. By 1905, his journey – undertaken to alleviate the poverty of his family in China – had led him into the Interior of British Columbia. There, Hoy was variously employed as a cook, a gold-miner, a fur-trader, and a railroad surveyman.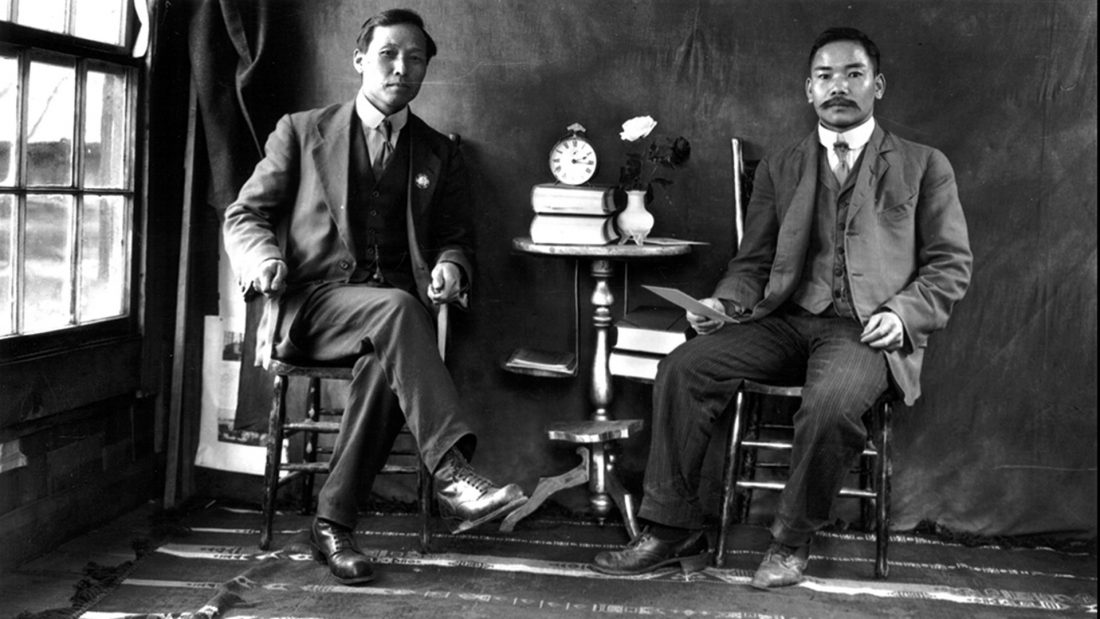 C.D. Hoy (right) and Lim Bing, his brother-in-law who was probably murdered in China for his political beliefs. (P2020)
In 1909 for economic reasons Hoy became a photographer, barber, and watch repairman in Barkerville. He eventually set up a photo studio in neighboring Quesnel. The portraits are personal records meant for a private audience, and as such, they lack the pretense of many historical photographs that were taken of the exotic "other."

Eight girls in the Hoy family, circa 1930. From left to right: Star, Lona, Yvonne, Rose, Anne, May and Evelyn holding Mona. (P1576)
In 1917 Hoy returned to China to bring his wife back to the Cariboo. One year after her arrival, the first of 12 children was born to Mr. and Mrs. Hoy.

Unknown. (P1721)
Presentation House Gallery exhibited C.D. Hoy: First Son in the summer of 1999. Gallery Director/Curator Karen Love immediately saw the importance of the photographs and story when Faith Moosang arrived at the office with a portfolio of the work. Barkerville Historic Town Archives generously loaned Hoy's original negatives for the exhibition prints and book prints. Master printer Henri Robideau made silver gelatin prints, mixing custom developers to produce exquisite prints from the 80-year-old negatives. As the exhibition was being organised Karen and Faith worked with Brian Lam at Arsenal Pulp Press on the publication.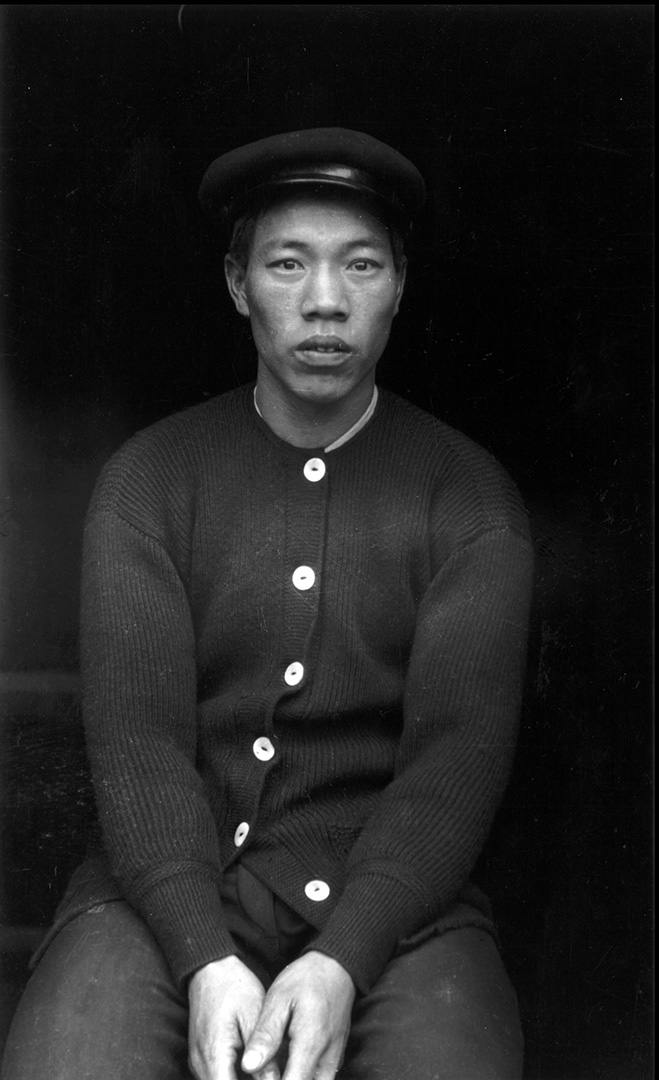 Unknown Asian man. (P2094)
C.D. Hoy was possibly the third Chinese photographer to work in British Columbia and the first town photographer to work in Quesnel. At this time, the Chinese families in Quesnel were first- and second-generation settlers.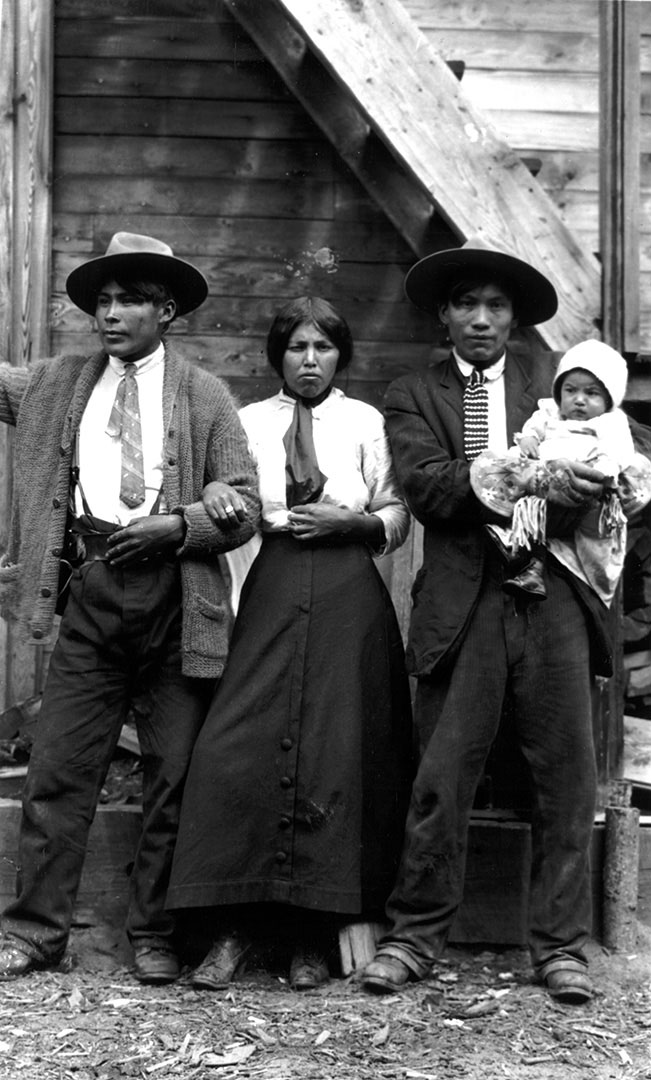 Dick Boyd and Mrs. Catherine Boyd (nee Bouchie), unknown man holding George Boyd. (P1714)
C.D. Hoy worked for the Hudson Bay Company before opening the Hoy Trading Company. His fur trading business, backed by no capital and no real experience, soon went broke, but not before he became fluent in the Central Carrier language.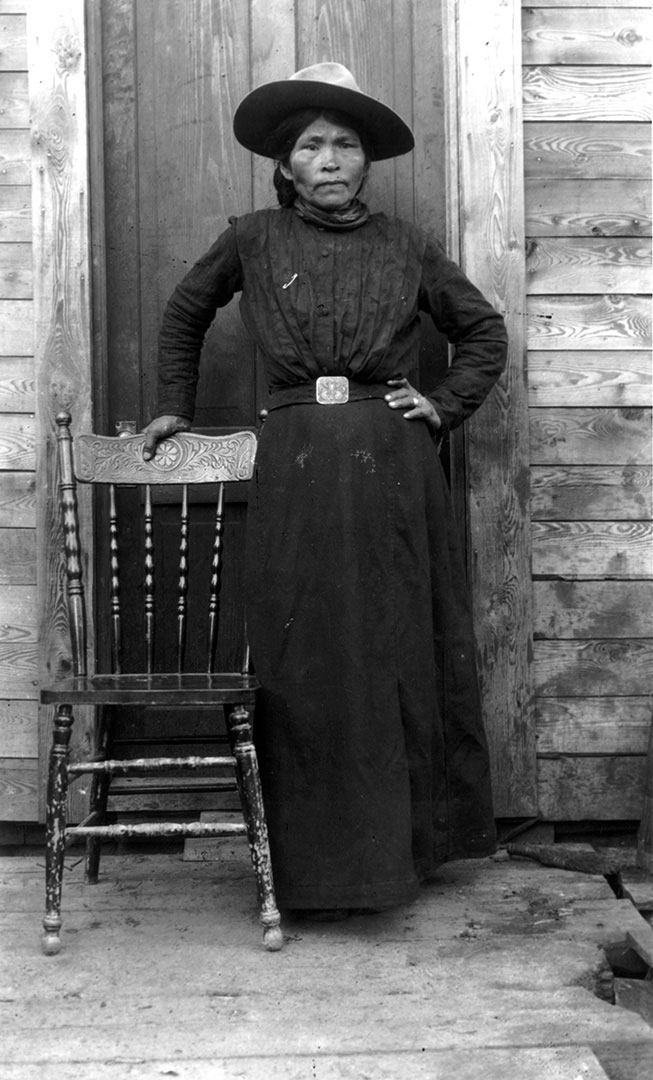 Mathilda Joe (Alexandria). Mathilda Joe, wife of hereditary chief at Alexandria, was known as an excellent hunter who provided meat for the entire community at Alexandria. (P1631)
C.D. Hoy's photographs include an overwhelming number of members of the Carrier and Tsilhoqot'in People. These photographs include members of the native Alexandria, Kluskus, and Nazko communities.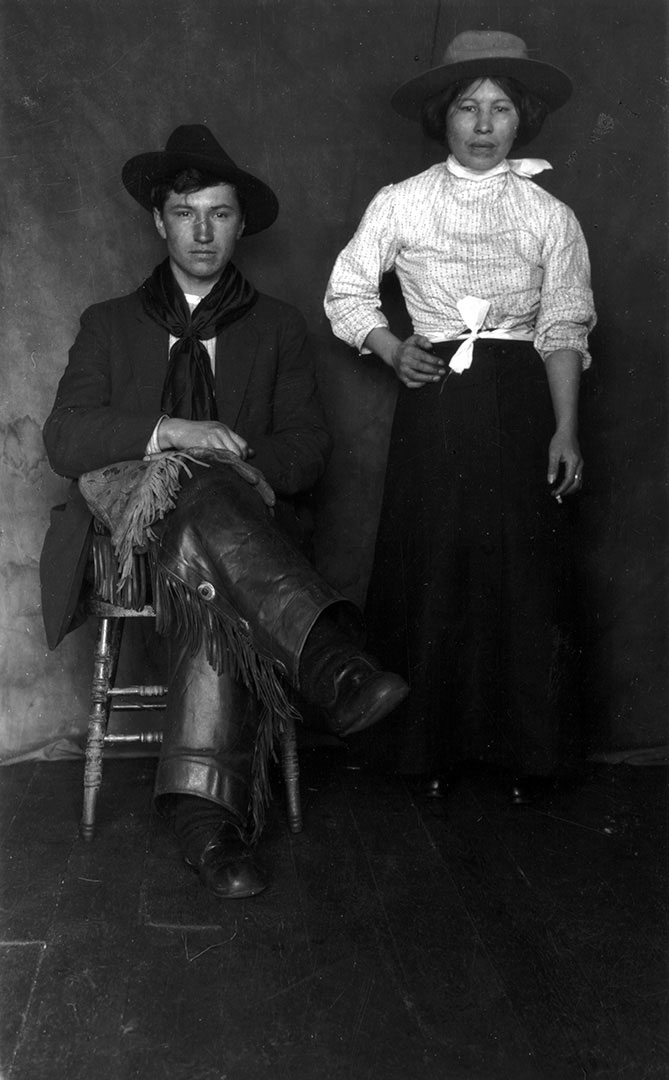 Standing is Josephine Alexander (Alexandria). (P1707)
C.D. Hoy's services as a photographer were most in demand during Quesnel's annual Dominion Day Stampede, which was a huge event, attracting people from hundreds of miles away.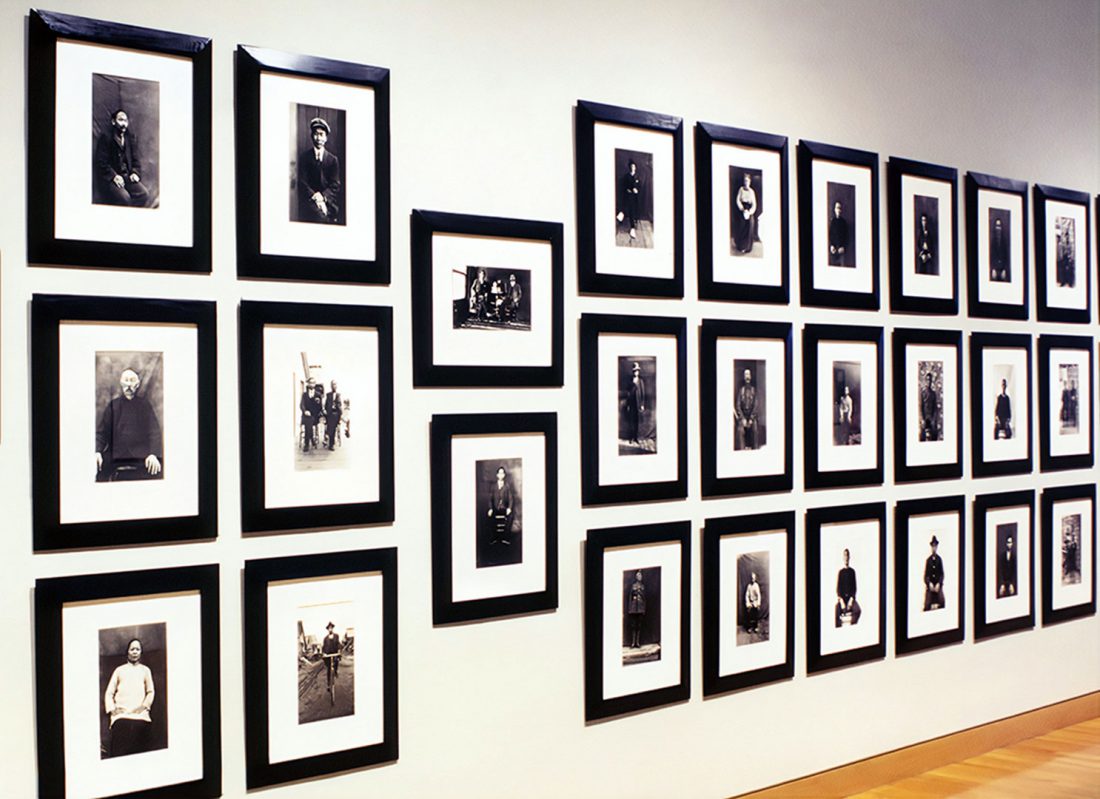 Installation view of the Seattle Art Museum exhibition.
First Son: Portraits by C.D. Hoy was mounted at Presentation House Gallery in 1999. It then toured from 2000 to 2005 to fifteen galleries and museums including the Seattle Art Museum, The McCord Museum of Canadian History, and the Canadian Museum of Civilization.
The gallery has hosted exhibitions by renowned portrait photographers over the years. In 1992, we exhibited Antlitz Der Zeit / Face Of The Time: August Sander. Published in 1929, these photographs propelled August Sander to enduring fame, and remain a benchmark in documentary photography.
In 2001, we curated the exhibitions Mike Disfarmer: Portraits from Arkansas and Seydou Keita: Portraits from Mali. Using unceremonious approaches in spare studios, both photographers documented their communities in a time and place where few owned cameras and family was valued above all. Their portraits are honest and unpretentious records of time, place, and people.
These three exhibitions marked the first time that these bodies of work were exhibited in Vancouver.
Subscribe to The Polygon Podcast on iTunes, Spotify, and Google Podcasts.
www.faithmoosang.com
www.barkerville.ca